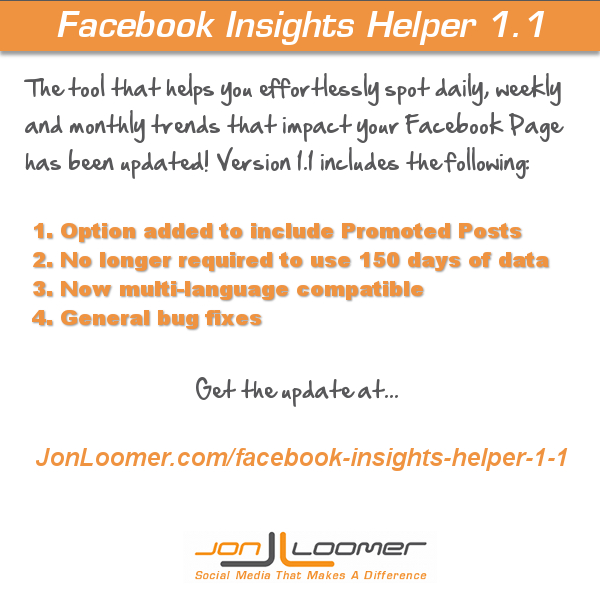 Back on October 8, I told you about Facebook Insights Helper, a free tool that I created to help you easily evaluate daily, weekly and monthly trends impacting your Facebook Page.
Today, I'm releasing the first update. Version 1.1 includes the following:
Option to include Promoted Posts
Removal of errors if fewer than 150 days of data is pasted
Multi-language Compatible
General bug fixes
The first two items were the sources of the vast majority of issues that users had with this tool. While I strongly believe that you need to remove Promoted Posts from the analysis to get a true sense of how your stats are trending, this can't apply to people who promote nearly every post. At that point, you need to include it.
Additionally, many people were getting errors if they used fewer than 150 days. I still advise that you use 150 days, but you should no longer get those errors. Note that the trending line will consider the empty days as zeros, so that line will only provide value if you paste in 150 days of data.
Finally, anyone who pasted in Insights with a header row that was in anything other than English previously received an error. This won't happen anymore. Instead, all stats will be in English. My apologies, but I assume that if you can read this blog post, it shouldn't be an issue!
As always, please let me know if you have any other suggestions for improvement. Thanks for your help!
[THIS PRODUCT IS NO LONGER AVAILABLE.]
[Note: If you received Version 1.0, a link to Version 1.1 will be (or has been) emailed to you.]