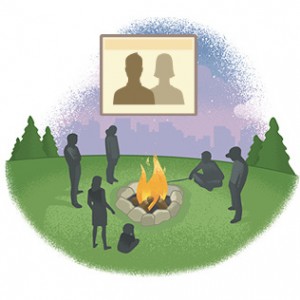 I will freely admit it: I've been completely oblivious to the utility of Facebook groups.
Of course, I'm talking about the new groups, not the old ones. The old Facebook groups were business pages before there were business "Pages." But once that transition happened, I've more or less ignored groups.
It didn't help that Facebook launched "new" groups while the "old" groups still existed, eventually phasing out the "old" ones. It was confusing. It was confusing for me. And I kind of get this Facebook stuff.
But recently I've come around on the "new(er)" Facebook groups. I now see the light. It's clear that groups actually hold more value to some organizations than do Pages, and brands can also use groups to supplement their other efforts on Facebook.
Let me explain…
The Characteristics of Facebook Groups

It's important to understand the distinct benefits of Facebook groups as well as the drawbacks and what makes them different from Pages.
Conversation: All-to-All (groups) vs. One-to-All (Pages)
Alerts: All members are notified of each activity (groups) vs. no alerts (Pages)
Applications: No apps (groups) vs. apps (Pages)
Focus: On the conversation and topic (groups) vs. the brand content, history, Milestones (Pages)
Membership: Open, Closed or Private (groups) vs. open (Pages)
Content: The community collaborates on shared links, photos and documents (groups) vs. one source (Pages)
Ads: No ability to advertise (groups) vs. advertising (Pages)
Analytics: No Facebook Insights (groups) vs. Facebook Insights (Pages)
When you look at it like this, it's actually silly even comparing the two. But due to the history and confusion, the distinction is necessary.
Groups are great for generating discussion among a community of like-minded peers. While there is an admin, that person doesn't necessarily drive the discussion. The weight of the content is equal no matter who shares it.
One of the big hangups for Page admins goes something like this: When I share something, all of my Fans should see it! Well, the truth is that most of your Fans don't really care if they see it. I know that hurts, but it's true. People follow countless brands, and they care more about seeing content from their friends and family.
But groups are different. This is not a brand driving the discussion (though it may be related to a brand), and the alerts help everyone — or much closer to everyone — see each piece of content. The alerts are a very important feature.
Facebook Groups Replacing Pages
So, let me get this straight… Facebook Pages replaced groups. The new groups then replaced the old groups. And now the new groups are replacing Pages?
Well, sorta. In some specific situations. Let me provide an example.
Recently, I was approached with a problem. An organization was moving from Meetup to Facebook. I suggested starting a Facebook Page. But then after sorting through their needs, I realized that groups would be the much better solution.
The reason is that the organization's prior communications through Meetup were not passive. Every member received an alert. It was important that every member received that alert and responded, particularly around the creation of events. And whenever anything about that group was updated, all members would be alerted.
That's why a Page just wouldn't cut it here. You know as well as I do that if the organization shared a piece of content or created an event, it could expect about 16 out of 100 members to see it. And that just won't work.
So I would suggest that if you are more of a "community" than a "brand," it makes more sense to create a group than a Page. This could apply to meetup groups, clubs, committees , families, schools, classes and any other group of people where the focus is on the conversation over the brand.
Facebook Groups as a Tool for Brands

Recently, I started a closed Facebook group (Facebook Marketing Strategy Tips, News and Discussion — feel free to join!). The purpose of the group is to encourage more discussion among the power users of my Page.

You see, on my Page, the focus is entirely on my content. I'll share two or three times per day and people comment on it. But I tend to stay to a pretty strict format.

Within the group, everyone is sharing. People are sharing questions, problems and links. They're quickly providing answers, suggestions and feedback. It's adding significant value.

One other nice aspect of groups is that the admin can no longer hide behind the brand name. I can only participate with my personal profile. Once again, we're all equals within the group. I believe this personal touch makes it much easier to build deeper relationships with the group members who are also fans of the Page.

Also, since the group is quite active I'll share content that I wouldn't otherwise share on my Facebook Page. I read a ton of content throughout the day, and I'll share much of the relevant Facebook info to my Twitter account. But I don't want to clog up my Facebook Page, so I only share the most important information there.

So the group gives me a place to expand the value that I provide on my Page, even if I'm no longer hiding behind my brand name.
Groups as Rewards or Membership

These groups are also a great way to provide recognition and value to your customers. Here are a few examples of when you could use groups:
Product Launch: Collect feedback, info on bugs, answer questions, personal customer service
Blog Membership: Exclusive discussion among members and the facilitator
eBook Discussion: Continue the discussion started by the content within an eBook
By creating closed or private groups, it gives them that "exclusive" touch.
Other Ideas?

How else have you used groups? Let me know in the comments below. And don't forget to join my group!