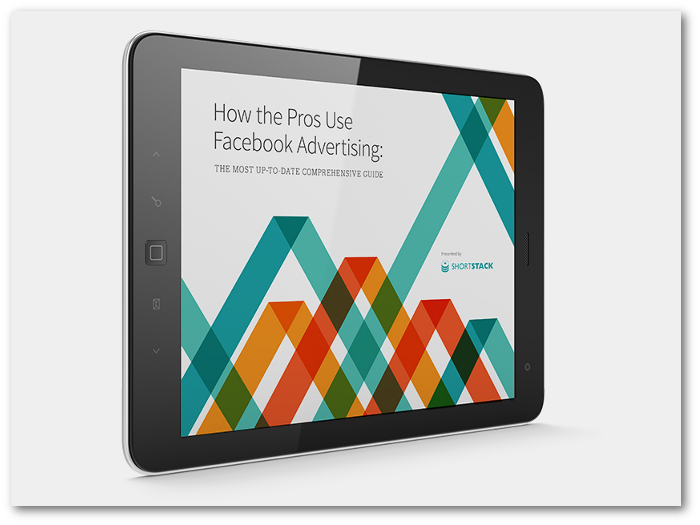 It's been more than a year since the last time I released an eBook. The wait was worth it!
I have partnered with ShortStack to provide the most up-to-date and comprehensive guide available on Facebook advertising.
Get Your Free eBook!
Following is what's covered in this FREE eBook:
How to Promote Your Facebook Page and Apps Without Spending Money on Advertising
Understanding the Value of Facebook Advertising
The most up-to-date Facebook Advertising Options
How to Get More Bang for your Facebook Ad Bucks
Facebook Ad Tools and Strategies Used by Successful Marketers
A list of the best Facebook Advertising Resources
Here is an excerpt from Chapter 5: Facebook Ad Tools and Strategies Used by
Successful Marketers.
Power Editor
Facebook's self-serve ad tool Ads Manager (the interface used by roughly 99 percent of marketers) is scaled down to make advertising as simple as possible. But there are several important — and more complex — features that are missing from it. Those features are available in Facebook's Chrome plugin called Power Editor.
Power Editor is a bulk editor that can make complex ad creation and campaignThe campaign is the foundation of your Facebook ad. This is where you'll set an advertising objective, which defines what you want your ad to achieve. More management easier. Possibly the greatest benefit of Power Editor is the detailed targeting that you can't do from the self-serve ad tool. For example, you can create an ad that only shows up on mobile or only on desktop News Feeds. This is how successful split testingSplit testing (or A/B testing) allows you to test changes in Facebook variables like ad creative, audience, or placement to determine which approach performs best. More is done!
Power Editor gives you complete control over placement, targeting and bidding, all while offering features that aren't available within the self-service ad tool. All of Facebook's new features are rolled into Power Editor and the ads API first. If you want the new bells and whistles, you need to use Power Editor.
Partner Categories

Facebook Precise Interest targeting is limited. When you target users based on interests, you are hoping that users are thorough, accurate and current regarding what they share on their profiles. But Partner Categories allow you to do so much more.

Facebook partnered with three data mining companies (Acxiom, Epsilon and Datalogix). These companies have collected mounds and mounds of data related to buying histories and lifestyles.

The result is that you can create Facebook ads that are more relevant than ever before. You can target based on income, whether users have kids, whether they buy athletic equipment, whether they own or rent a car, and so much more.
FBX
Real-time bidding is a venture Facebook launched in June of 2012 with their ad platform Facebook Exchange. Facebook Exchange officially came out of beta testing in September, and since then there have been several reports claiming that marketers are seeing lower costs per acquisition and improved ad placements. These factors alone are helping brands yield better ad results.
Unlike Facebook's Ads Manager, the Facebook Exchange lets advertisers purchase "retargeted" ads on Facebook after a user has visited an external website marked with a cookie.
Facebook Ad Exchange is where Facebook ad targeting really shines. Ads no longer need to be unrelated and annoying. They can be for products and services that you've proven to care about.
For example, let's say that you were on JonLoomer.com. You read a blog post related to Facebook ads. When you return to Facebook, you might see an ad related to one of Jon Loomer's products. That's Facebook ad retargeting, also known as FBX!
Get Your Free eBook!