[The following is a guest post by Andrew Foxwell.]
Just when you were getting used to the new Promoted Posts in the News Feed, they are changing again…
Now, before you get annoyed let me tell you: They are changing for the better (on September 10th)!
What is the Change?
Facebook recently sent out an announcement to their managed accounts indicating that there will be several changes applied to Facebook ads effective September 10. Most of these changes are small, but possibly the most important involves link share ads.
If you share a link from your Facebook page or create a linked page post advertisement, it will feature a much larger image than before.
As we know, link posts traditionally look like the example below…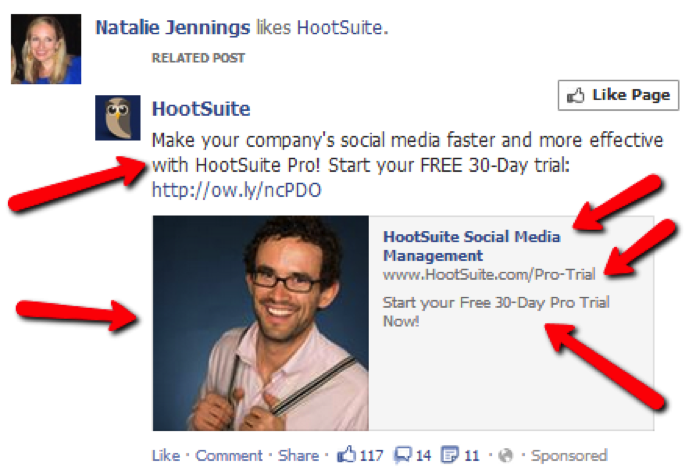 They feature an image size of 154 x 154px and a text limit of 500. So, when looking at the current link post ad, there are a few benefits of a link post ad.
See how many different customization areas there are? You have:
A description which allows for another link and some text
An image
A link title
A masked URL
Another link description
[NOTE: All of these things can be customized when creating an Unpublished Post.]
That's a lot of customization areas, which is great for marketers.
Traditionally in tests that I've done, linked page post ads work quite well, but not as well as photo posts. So, I believe Facebook realized this and made the change to enlarge the image on the link post ad unit and make the entire thing clickable through to your website.
Check out the new link post as it will soon appear in your News Feed.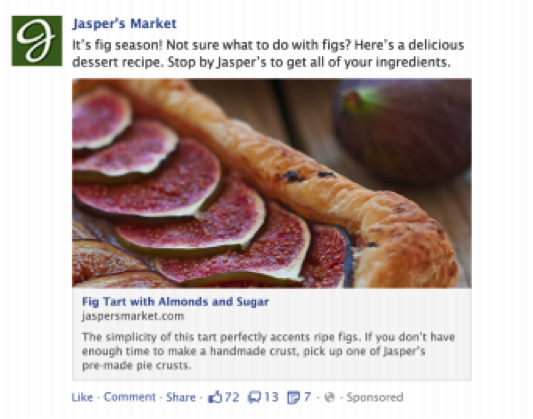 Notice it has all the customization of the link post above and a larger image like the photo post.
So, in order to get ready for this great ad unit, here are the creative specifications you'll need:
Text: 500 characters, remainder truncated
Link title, domain and description:

Title: 1-2 lines (depending on length)
Domain link: 1 line
Description: 2-3 lines (depending on title length)

Image aspect ratio: 1.91:1
Image specs in ad: 400×209 px
If the uploaded image is smaller than 400×209 px, then it will render as 154×154 or 90×90 px (the largest available size)
What's the Benefit to Advertisers?
In the recent months leading up to this point, we have seen the introduction of promoted posts in the News Feed, which allows us to get in front of users in one of the most valuable places on the internet.
Then, we saw a fantastic development in the release of unpublished posts (those that aren't live on the brand page), that allow us to multivariate test images, creative and audienceThis is the group of people who can potentially see your ads. You help influence this by adjusting age, gender, location, detailed targeting (interests and behaviors), custom audiences, and more. More to ensure we are optimizing campaignsThe campaign is the foundation of your Facebook ad. This is where you'll set an advertising objective, which defines what you want your ad to achieve. More in a way that is systematic and logical for the best results.
Since the introduction of these ad units, I'm sure we'll all say our ads have improved. For example, a "good" CTR on the right-hand-side for ads was .045%. Now, in the News Feed, we are looking at a "good" CTR of 1.5-2.5%+! What a change we've witnessed.
However, we've also noticed downsides.
If you're running photo posts or unpublished photo posts (which are the best conversion drivers on Facebook), you don't get as many customization options as you'd get with a linked page post. With an unpublished photo post, you also ONLY get a description box where your text goes. Something like…
"My product will change your LIFE.
—-> Buy It NOW shortlink.com /tejknjsdf"
This little text description is nice, but wouldn't you love more customization? ME, TOO. 
Also, you may have noticed if you're running photo posts, in the new Facebook reporting it shows how many people have clicked your image to enlarge it. It's one of the most popular things people do with unpublished photo posts, because if something is in your News Feed, why wouldn't you click it?
So, this change by Facebook finally rids us of this wasteful click problem.
How Do I Create These New Posts?
First, go to Power Editor (if you aren't familiar with this tool, make sure to sign up for Jon's training program!).
Next, click on "Manage Pages" in the upper left-hand-corner drop down.
Click "Create Post" next to the Manage Pages button. Then you get the option to create a link post, which you can do from this screen.
And boom, you're ready to go once you fill in the URL, post text, link headline, link caption and so on.
Let's Recap
Linked page post ads or link shares are getting enlarged image sizes in the News Feed. This is great news! They are increasing from 154 x 154px to 400 x 209px. This change will apply to all ads or link shares created after September 10th, 2013.
What do you think of these changes? Let me know in the comments below!