Hey, welcome back to my experiment! I served you a Facebook ad because you have viewed 23 or more pages of my website during the past 180 days.
Today's video lesson is embedded below…
In the last lesson, I talked about how I dry brined my turkey the day before Thanksgiving. Now, it's the morning of the big day!
I use a Big Green Egg. The first thing I do is fire up the grill.
I let the charcoal burn for about 15-20 minutes and then I close the cover to let it heat up.
While I wait, I take the turkey out of the refrigerator and rinse off the dry brine. An hour before it goes on the grill, I put a bag of ice on the breast meat of the turkey (this allows you to cook the breast meat to a lower temp than the dark meat).
We also stuff the cavity with an orange, onion, garlic, and some other herbs and spices.
We're waiting for the grill to heat up to about 350 degrees (it'll cool down once we put the turkey on the grill). When it's ready, we remove the ice and cover the turkey in a mixture of olive oil, spices, and herbs (typically, sage, rosemary, and thyme). You can go under the skin, too (I didn't this year).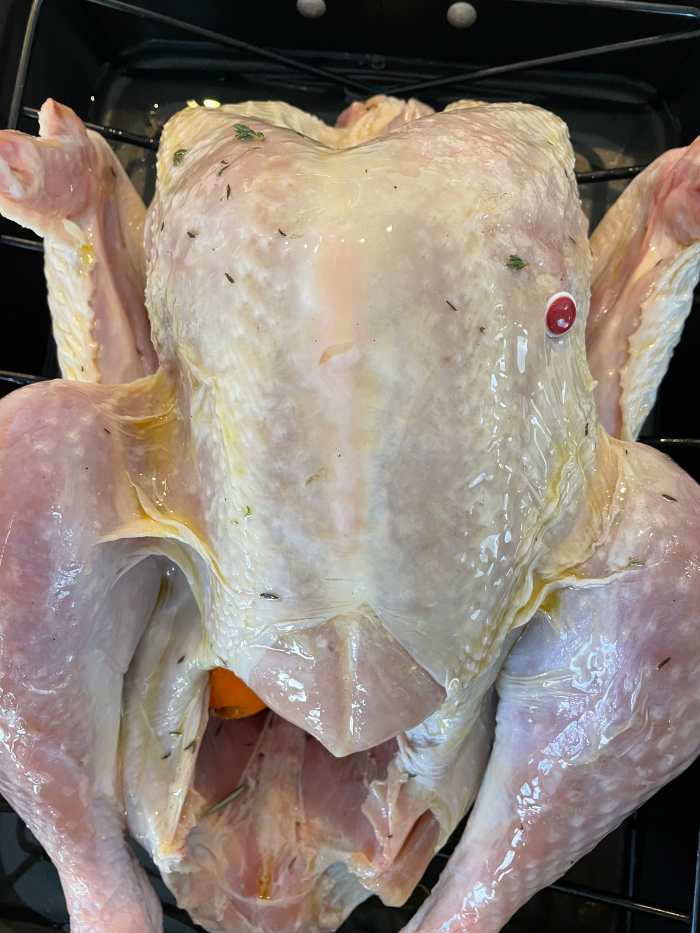 When the grill is heated up, I add three or four wood chips that were soaked in water for 15-20 minutes on the coals, then a place setter for indirect heat, and then the grill grate. I put the turkey on a rack in a roasting pan.
For the first hour or so (as long as it takes to get the turkey browned), the temperature is set at about 250 degrees.
Starting at about 30 minutes, I'll check it — just to make sure it's not getting too brown (we don't normally want to open the grill more than we have to).
Then 15 minutes later…
Getting closer! And 15 minutes later…
Almost! And another 15 minutes later…
Just right! Then cover it in foil…
Close the grill and maintain a temperature of about 325 degrees.
How long it cooks depends on a lot of factors, including the size of the bird. They say to expect 10-12 minutes per pound for total cook time, but I wouldn't say that's all that reliable.
The turkey will be done when internal temperature in the breast meat is 165 degrees. And it's awesome!
Then eat! Smoked turkey is a big favorite in our house. Hope you like it!
Okay, this was a fun diversion. We'll get back to Facebook ads in the remaining lessons. Thanks for joining me!
If you want to get more tips served to you, you'll need to first qualify! The next threshold to hit is viewing at least 24 pages of my website in 180 days.
View Prior Lessons
I have multiple engagement thresholds for viewing lessons in this experiment. If you were already ultra-active on my website, it's possible you'll skip a few of the initial lessons. As a result, I will link to all prior lessons at the bottom of each one.
Here you go: