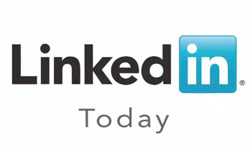 Most marketing professionals have their routine when it comes to social media. You might start by tweeting your content through a scheduling tool like Buffer, then moving over and sharing the content on LinkedIn, then go to Google+ to add content, and hopefully your Facebook is automatically updating your blog posts somewhere in between. Some people choose to first go to LinkedIn, then connect that share with a Twitter post, then go to Google+, and then use scheduling tools only for sites found when surfing, and hopefully remembering to continually go back to LinkedIn to add more content you want to promote. Confused yet?
As someone who would get very overwhelmed when trying to come up with a social media routine, I found that LinkedIn was slowly disappearing from my radar. I got very into scheduling tweets and using the exciting new network, Google+, but LinkedIn fell flat. I didn't feel as though I was getting the type of engagement I could get on Twitter. After learning about LinkedIn Today, I realized I was very, very wrong.
How LinkedIn Today Works
LinkedIn Today is a tool that pulls news and articles from different websites across the web into one place for a user. The idea is that LinkedIn Today will help users skip the sections of the newspaper (or online newspaper) that don't interest them. If you are one of the people who skips over the local news to read the sports columns, LinkedIn Today will do all that filtering for you. Below is a screenshot of my custom paper generated by LinkedIn Today:
As you can see, LinkedIn Today looks like your typical online newspaper. The only difference: The articles are coming from many different sources and are customized to your interests. The ways it works is this:
Step #1: LinkedIn will look at your connectionsWithin your ad set, you can further narrow targeting by adding a connection to a page, app, or event that you control. More and the news that they are reading.
LinkedIn connections are generally professionals in your field of study. If one of your connections shares an article they find on LinkedIn, the LinkedIn Today service will pull that article as something that might interest you. This is a great way to stay on top of the latest news in your industry, so people generally love using LinkedIn Today. Even if your connections don't share the same interests as you, you'll be able to see what your boss thinks is important.
Step #2: LinkedIn will look at the groups and industries you follow.
You have the option to join groups on LinkedIn and follow specific industries/companies. Even if you're not sure who to follow, LinkedIn will give you suggestions on the right hand side of your screen. As users become more familiar with LinkedIn, they realize that following groups and industries is a great way to further their connections. LinkedIn then looks at those you are following and pulls news based on these likes. This is where interests other than your profession come into play. For example, you might be a marketing director and connected with other marketing directors, but you could be a huge Chicago Cubs fan. If you're a part of a bunch of sports-related groups, you'll have that news coming into your LinkedIn Today. Below is a screenshot showing where you can find companies and groups that may interest you:
Step #3: LinkedIn looks at the connections that happen between industries.
LinkedIn Today also looks at what is being said about the articles that are pulled for your specific interests. For example, if those in journalism are saying something about an article that focuses on blogging, one of your interests, you will be able to see the article that the journalists wrote. This will help give you a bigger picture of all the news that LinkedIn Today is generating—something that traditional newspapers can't do.
Step #4: LinkedIn uses the number of shares to determine what is most important.
LinkedIn Today wants to know what types of information to pull for you, but there are a lot of articles out there that fall into the categories that you might be interested. They therefore pull the articles with the most social shares because they feel that those are the most important. If a bunch of people felt that the article was so great it deserved one hundred social shares, then it's good enough to be a part of your LinkedIn Today.
What This Means for Businesses
Business should be working hard to get their articles to appear on a LinkedIn Today page for customers and clients. This is quickly becoming a popular way to find news, and you want your company to be a part of the news. There are two ways to make this happen:
Add a LinkedIn share button to your blog and other content you have on your website. This will make it easy for readers to share your article via LinkedIn; thus helping it get to the top of the list.
Always share your content on LinkedIn. You want as many shares as possible, so sharing content with your audience could help get the ball rolling.
LinkedIn Today is also great even if you're starting a business and your content doesn't always appear. It allows you to stay updated on your competition and the latest trends in your industry; thus helping your business become smarter and more aware.
To find your LinkedIn Today, simply go to your LinkedIn profile and click the tab that says "News." This will then take you to your customized news, and articles based solely on your interests are ready to go!
[custom_frame_left shadow="on"]
[/custom_frame_left]
Amanda DiSilvestro is a writer on topics ranging from social media to VoIP phone service. She writes for an online resource that gives advice on topics including small business loans to small businesses and entrepreneurs for the leading business directory, Business.com.