When Facebook Timeline for Pages was rolled out about a year ago, it sure seemed like the tabs (or apps) area immediately under the Cover Photo would be prime real estate. Particularly if, as Facebook predicted, the Timeline would become a destination.
Well, that never really happened. I've found that views of my content found on my Facebook Page makes up only 1.5% of my Total Organic Impressions. And those Facebook tabs are only .4% of Total Organic ImpressionsImpressions are the number of times your ads were displayed to your target audience. Impressions aren't counted if it is detected they came from bots. More.
So, completely worthless, right?
Well, not so fast. Sure, very few people will see those tabs naturally. But you should absolutely drive people to them with links in the News Feed or through advertising.
Here are the five reasons you should still make Facebook tabs part of your marketing strategy.
HOLD UP! About Mobile…
A critical part of tabs is driving traffic to them with your updates and ads. But understand that these tabs aren't naturally viewable via mobile devices.
This is bad since more than half of users are viewing your content on mobile. The solution: Smart links.
I use ShortStack (aff) to create my tabs. I've used them for over a year now. ShortStack provides a smart link that you can share so that when users click on it they can view your tab content from their phones.
1. First Impressions
Even if you assume only 2% of your Fans will ever come to your Page after liking it, this doesn't mean that tabs are completely worthless.
Why? You're discounting what drove them to Like your Page in the first place!
When someone lands on your Page for the first time, what do they see? How will you convince them that you provide value, are professional and are worth Liking?
First impressions are important. Your Cover Photo, Profile Photo, name, description and tabs all make a difference.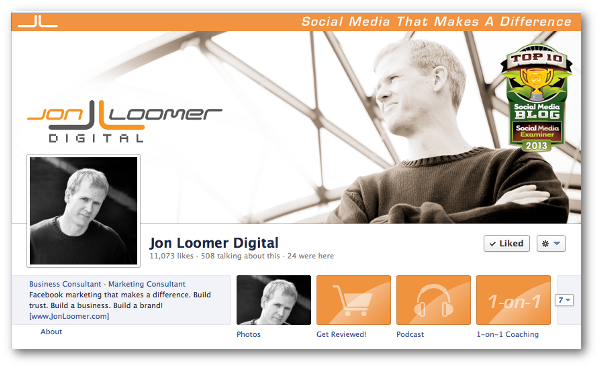 In fact, I'd argue that what's inside of your tabs often doesn't matter in terms of acquisition of users who land on your Page for the first time. It's the consistent, professional design between tabs and your other imagery that go a long way.
I know the response. I've heard it before. You think this doesn't contribute. I think you're wrong. I know for a fact that my impressions of a brand are colored by that first glance, and well designed tab icons make a big difference.
2. Introduce Yourself
As I said above, the first time visitor has little patience. You need to quickly convince them that you are a brand that provides value and is worth following.
You also need to differentiate yourself. What makes you unique?
An "About Us" tab can help tell your story. Record a video. Provide bullet points underneath that give more details on who you are and what you do. And then add a contact form to the right to build leads.
Your tabs should always have two goals: 1) Provide value and 2) Convert. That value can be in the form of information, entertainment, education or a product.
3. Feature Your Products or Services
Another tab that I like seeing featured under the Cover Photo is one that explains what a brand is selling, whether it's a product or service.
Create a tab that simplifies this. What's the one thing you do? Or maybe you have a special promotion. Feature that promotion in a tab.
You can also create a tab that acts as a gallery to allow visitors to easily scan through what you offer. Just make sure that you keep it simple without forcing them outside of your tab to get a full understanding of what you offer.
Like I said above, you need the second half of this: A conversion. Make sure you provide as much information as possible to educate the visitor so that they can then click a button to purchase or get more information.
As much of this process that can be performed within the tab, the better!
4. Run a Contest
By now, you know that if you're going to run a contest on Facebook you have to use a third party application. Stop with the status update contests, people!
Feature that contest tab under your Cover Photo. Create updates that drive people to that tab. And advertise!
5. Build Your Email List
Give a product away like an eBook, but under the condition that users first subscribe to your email list.
Or maybe you feature your newsletter itself. Provide a sample newsletter so that a visitor can quickly see its value. And to the right, provide a form to allow that visitor to quickly subscribe.
Too often I see tabs that simply say, "SUBSCRIBE HERE!" with a form. Why subscribe? What value do you provide? This needs to be clear.
How About You?
Are tabs still a part of your Facebook marketing strategy? How are you using them? Let me know in the comments below!
[NOTE: Haven't created your own tabs before? Give ShortStack a try!]