[The following is a guest post from Ryan Hanley.]
Facebook EdgeRank can be infuriating. You work your ass off to accumulate fans and "Likes" using every trick, tip, tactic and strategy outlined right here by Facebook Master Guru Jon Loomer only to realize a tiny fraction of those fans actually see your messages.
EdgeRank done gotcha and you weren't the first.
The good news is there are ways of beating EdgeRank. Every Facebook marketer is going to have their own unique tactics for getting more reach and engagement with each Facebook post.  As a Facebook marketer of main-street insurance agency and my own content marketing consultancy I, too, have a method.
You just might need to spend a little money.
The Promoted Post Misdirection
We all know that people on Facebook love to Like, comment on and share cute pictures of children and pets. As a marketer we have two choices when it comes to this kind of content: completely disregard as a nuisance to the news feed or embrace the craziness and utilize it effectively.
A few months ago I was brainstorming ways of beating EdgeRank for my insurance agency. Just like everyone else, we had been getting killed by the algorithmic torment of EdgeRank that swallowed entire posts into the Facebook ethos.
After reading this article on Paying for Reach my muse reached down from the marketing heavens and tapped my shoulder…
"You shall post pictures of cute kids and pets to trick Facebook into thinking your fans have a higher affinity for your content than they do…" (imagine a Rodney Dangerfield voice saying this; for some reason that's how my muse talks…)
Seriously though, the idea was simple. As a local business, selling home and auto insurance, a large segment of our customer base is families. The exact demographic that loves cute kids and pets.
So we came up with a content campaignThe campaign is the foundation of your Facebook ad. This is where you'll set an advertising objective, which defines what you want your ad to achieve. More called Cutie Patootie Tuesday (my sister-in-law named it, don't think less of me) in which every Tuesday we asked customers to submit their "Cute" photos. We post the photos on our page with a little description of who the person is and what's going on in the photo.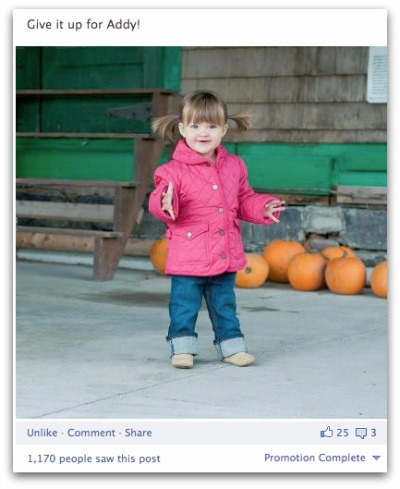 Then I use promoted posts (which has recently been renamed "Boost post" for some) to make sure that all our fans see the image.
Look at the image to the right. Who wouldn't click the Like button if they saw that image come through their News Feed?
Some people might not I guess, but let's agree that more people are going to click the Like button for this image highlighting one of our client's kids than a post about auto insurance.
That's the point.
I'm playing to the strengths of the Facebook community. I'm giving the people what they want — cute kids and pets — and in return I get a higher Affinity rating in Edgerank for all the people who clicked Like.
Use the Algorithm to Beat EdgeRank

You can't do much about Decay. You post something, it gets older every minute and loses strength within EdgeRank.

Additionally, you can play around with Weighting by adding images and video, but to a certain extent there is only so much you can do.

But we can rig Affinity. We can make sure that our fans have a high Affinity for our page so that even when we're not posting pictures of cute kids and pets our posts are being seen.

I get people to Like the cute kids and pets so that they see my articles on auto and homeowners insurance. No one "Likes" articles about auto and homeowners insurance on Facebook. But for five bucks I can get 87 people to click through to my Facebook page.

Plus, people think it's cool that we highlight customers' kids and pets.  Everyone likes their name in lights.

By spending just a little bit of money ($5 a week) and using Facebook's own tools, you can consistently beat EdgeRank and get the messages that matter to your business in front of the fans you worked so hard to get.

Thank you and Good luck,

I am Ryan Hanley