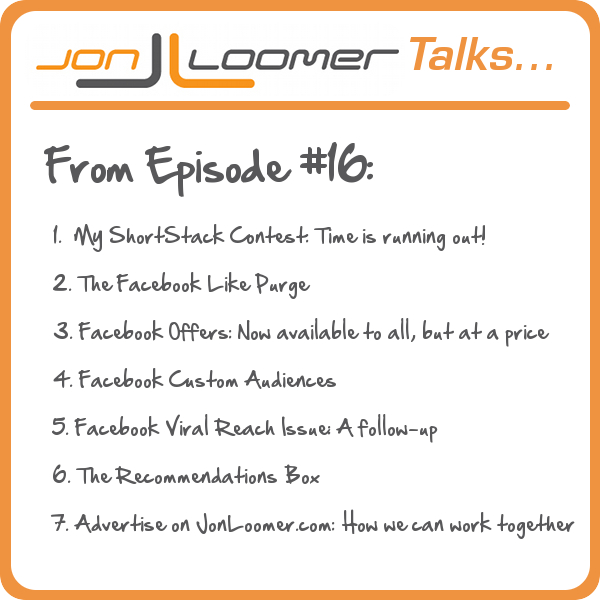 After a three week hiatus, my podcast is back! I took a step back to re-evaluate. Now I'll be recording on Sundays instead of Wednesdays. The main reason for this is that my podcast will continue to be experimental, and the bulk of my traffic comes from Monday through Thursday.
That doesn't mean I won't continue to invest in my podcast. But I'll simply put it on a lower leverage day while I continue to polish it up and make it as good as it can be.
Get it? Cool? Good deal…
So, lots to catch up on. This week, I talk about the following:
My ShortStack Contest: Time is running out!
The Facebook Like Purge
Facebook Offers: Now available to all, but at a price
Facebook Custom Audiences
Facebook Viral Reach Issue: A follow-up
The Recommendations Box
Advertise on JonLoomer.com: How we can work together
Enjoy! And don't forget to subscribe via iTunes!
[audio:http://jonloomer.com/podcast/podcastgen/media/2012-09-30_jonloomerpodcast_16.mp3|titles=JonLoomer.com Podcast – Episode #16]