previous tutorial
, I talked about the challenge that Timeline presents with tab or app logos, particularly with custom apps that you have created (usually a simple iFrame). If you created a custom app like I did, you probably never even worried about the logo since only the small icon and title were previously displayed.
At the time, I noted that you could change the logo from your developer tools. You can still do that. But what I didn't realize was that you can even change the logo for other third party apps that you didn't create.
After expanding the view to all of your tabs (I'll continue calling them that for now), click the Edit icon for the logo you want to change. Then select Edit Settings: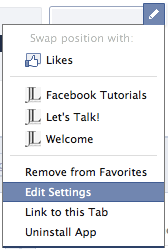 By Custom Tab Image, click "Change."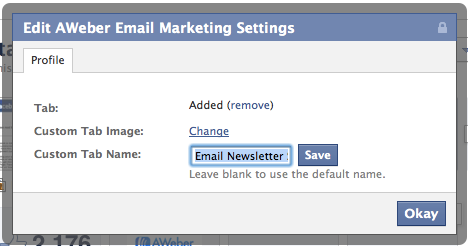 It'll pull up this page. Click "Change" again:

Then you can select whatever image you want from your hard drive. You can always go back in and change it or delete the image to go back to the default.
What This Means for Page Managers
This is a great branding opportunity. Now, whether you "own" an app or not, you can change how the box looks. You can create a particular theme that is consistent across all tabs. This opens up the ability to get creative.
What This Means for Developers
I guess developers shouldn't put much time into branding the logo of these apps. Not everyone will change them, but if I were the developer I'd feel a bit violated. But maybe that's just me.3