NOTE: This promotion is no longer available. Fill out this form to be alerted of Facebook marketing tips and when new ad coupons are available!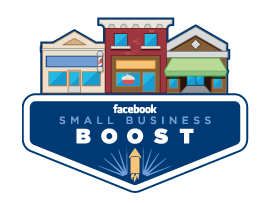 Really big news for small business owners from Facebook Marketing Solutions, the official Facebook Marketing page. They have launched a contest called Facebook Small Business Boost that will award a $10,000 prize to the 10 participating small businesses that accrue the most likes on their Facebook page by April 1.
If you're a pessimist, you may be saying… One of the top 10? $10,000? No way I could do that with my business. This is a waste of my time.
First, stop being so negative. Someone's gotta win. And that's 10 "someone's." But either way, there's something in it for everybody who participates.
Want $50 in free Facebook advertising? Yeah, me, too. Well, you get that just for participating.
Want $100 more in free Facebook advertising? Of course you do. You can get that, too. Just accrue 100 new likes from the start of your participation in the promotion and up until April 1.
This is pretty close to $150 of free money, people. The $50 is automatic. And you should be able to get that next $100, too. You really should.
I'll get to the tips to help you out in a minute. First up, you want to participate. Two important stipulations: 1) The page you are entering must have at least 50 likes, and 2) You must have a business based in the US. If the first is a problem, just get some friends to like your page to get you to the 50. I know that the second one knocks out some of you. I assume Facebook does this promotion for non-US businesses as well, so keep an eye on their page.
Before you sign up, I want to make sure you get even more in free advertising that may be available to you. If you've never advertised on Facebook before, here's yet another $50 in free Facebook advertising that is available to only new advertisers. Just make sure you do that before you do anything else. Once you advertise on Facebook, this promotion is no longer available.
Ready for the promotion? Not yet. I want to give you one more $25 coupon code. I know this all sounds too good to be true, but I just stay on top of this stuff. Try this one, too. That's another $25 in free Facebook advertising. Last I heard, it still worked.
Alright, now you're ready to get started in this promotion. Go here to sign up. The promotion is called Facebook Small Business Boost. Click on the link and you'll come to a page that looks like this: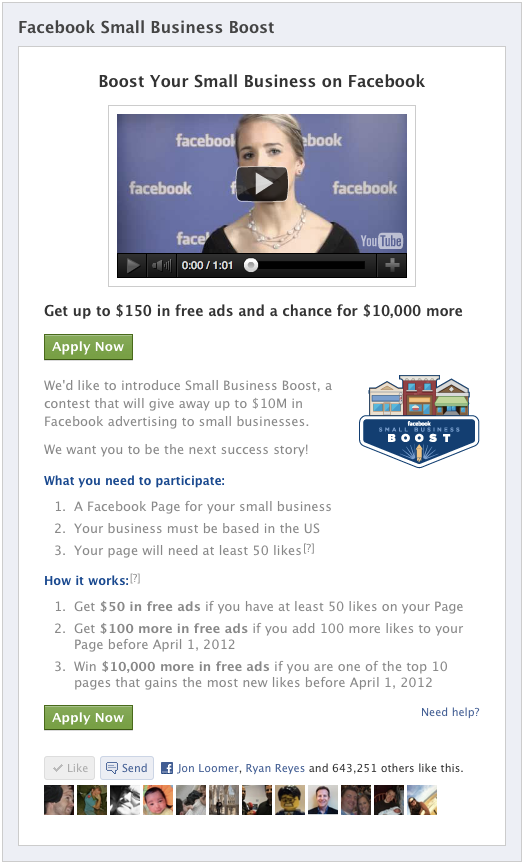 Once you click to apply, it will load a page that lists all of the pages you manage. You can enter only one page into this contest. So pick wisely. There will be a circle next to those pages that are eligible to enter.
Important note: When I first tried to enter, none of my pages had a circle next to them. Every single one of them had an "X." It took me a while to figure out why, but it's because I didn't put an address for any of my pages. You must do this to indicate your business is based in the US.
So if the page you want to enter can't be selected, first go back to your page and set the address in your page settings. You don't need to include a street address, but you'll need the city and state.
Once you select your page, click submit and Facebook will review your application. This is actually something new for Facebook. They had a similar promotion in October and November, but they immediately gave away Facebook coupon codes when you entered in that one. Here, they review your entry and then send you an email. From that email, you click a link that takes you to the ad creation page. Once created, the coupon will be applied. So no funny stuff.
It took Facebook two hours to review my application on a Sunday night, so you shouldn't need to wait long. Then you can get straight to advertising.
So, you have the $50 in free advertising (or as much as $125 if you also got the other codes I mention above). Now you want to get the next $100 or even the big $10,000 prize. I want to help you get there.
The first step is to use that $50 to drive as many likes as you can. If you can't get to 100 with it, you'll get very close.
Now run some great ads. Here are some blog posts I've written that can help you get that extra $100:
When you run ads, I encourage you to use something of value as bait to get people to like your page. People need incentive. Do you have something you can give away? Coupons? A deal? Something? I give away a free eBook. Whatever it is, make it clear that they get immediate access to whatever that is as soon as they like your page.
To do this, you'll need to create a Welcome tab. Here are some tips on how to do that:
If you fall short of the 100 likes or if you're going for the $10,000, here are a couple more tips to get even more likes to your page:
If you follow all of my instructions and are a new advertiser, you should be able to get $225 in free Facebook advertising. And who knows? Maybe you'll win the $10,000.
While I'd like nothing more than to be one of the $10,000 winners, the next best thing would be to get my readers that money. So, let's do it. Let's get it. We can do it!
Good luck!